So I have been reflecting on how many have been quoting Mother Julian's mantra "all shall be well" to me recently. I have to admit that, in the midst of my own personal troubles and difficulties which are, of course, overshadowed by the national political and financial chaos and the international situation of war, climate change, famine, and pandemics (sounds like the Four Horsemen of the Apoclaypse?), this "reason for optimism" has sometimes seemed trite, dismissive, and even offensive.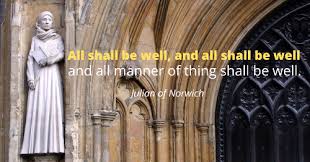 But I have been looking at Julian's reaction which was actually NOT to be comforted but to challenge God in reply: "Ah, good Lord, how could all things be well, because of the great harm which has come through sin to your creatures?" And she also said, "If there is anywhere on earth a lover of God who is always kept safe, I know nothing of it, for it was not shown to me. But this was shown: that in falling and rising again we are always kept in that same precious love" and "He did not say: you will not be troubled, you will not be belaboured, you will not be disquieted; but he said: you will not be overcome."

None of that is trite – but it alone offers real hope and is the only way to keep going, IMHO.