I was delighted to be able to perform the world premiere of the whole of my translation of Mark's gospel at St Luke's Church, Holloway on Friday Oct 14th 2022 – and the video recording of the event is now available here on my YouTube channel. Experience this live oral performance like the ancients! With first-century literacy rates at only around 10-15% of people being able to read and write, ancient texts were received by hearers through the ears by being read out loud or even performed, rather than through the eyes as in the modern habit of silent reading. Ancient texts were written on 35-feet long scrolls, one of which could be recited in a single evening, rather than today's habit of hearing or studying small passages of a single story on our own.
I was delighted and excited to have secured the brilliant expertise of two professional actors: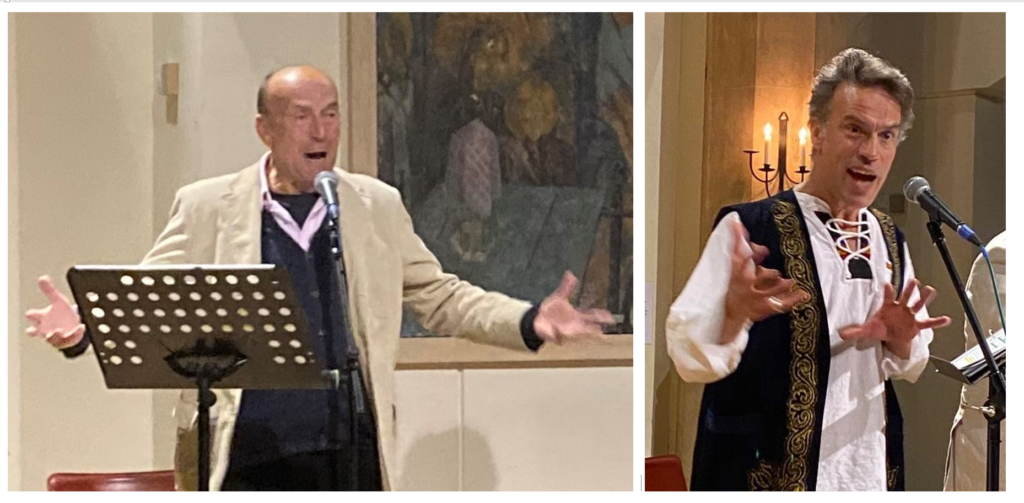 JUSTIN BUTCHER, writer, director, actor and musician, known for his award winning plays like Scaramouche Jones, and his anti-war trilogy, The Madness of George Dubya, Guantanamo Baywatch, and A Weapons Inspector Calls, and also for his recent production based on his book about Walking to Jerusalem, 2018   Justin was reading the part of St Mark as an Aramaic-speaking northerner (with a hint of Yoda and Geoffrey Boycott!). Read more here.
ANDY HARRISON is a well-known actor from both stage and TV especially his one-man shows like Faraday, Mr Darwin's Tree, and The Last Cuckoo; his famous versatility at representing multiple characters was displayed as he gave voice to everyone in the gospel, except Jesus! Read more here.
I read the voice of JESUS myself – and I found it a deeply moving experience. In the regional accents that we were using, I was struck by how agricultural and agrarian Jesus was – deeply interested in the farmers and fishermen among whom he was living and teaching.
The origins of the translation lie in a 35-day silent retreat to take the full Spiritual Exercises of St Ignatius in his actual home in Loyola, Spain. I wrote a literal, word-by-word translation before each of my imaginative study and prayer sessions on each gospel story – and I found it so rewarding, that I have continued to translate a small section as part of my spiritual discipline each day.
The principles followed in the translation are to reflect as closely as possible the Greek text, keeping literally to the exact word order (which can make it sound like Geoffrey Boycott or Yoda!), to the original tenses (e.g. Mark suddenly jumps into the present tense over 150 times – but sadly English translations usually ignore this habit), to word-plays and puns in the Greek, or reflecting the Semitic-Aramaic thought-forms of the writer, recognizing that Greek was clearly not the author's mother-tongue.
I have now finished both Mark's gospel and that of Matthew, and I am about to start on Luke. I have performed solo extracts at the British New Testament Conference in Derby in August 2021 and the Erhardt post-grad/post-doc staff biblical research seminar at the University of Manchester (where I am now based academically) in May 2022.
You can read more about the performance here and listen to my Premier radio interview which is available here
(c) Please note that the translation and the video remain copyright, Richard A. Burridge 2022.
Please make a donation (£10 minimum is suggested or whatever you want to give) towards the costs of the performance on the St Luke's Church giving page and please remember to mark it as for The Rough Mark as shown below, even if you do not wish to provide your name.